White Lotus season 2 on HBO continues to NOT disappointment. One of the main and breakout characters this season of course is played by Aubrey Plaza. Aubrey plays an uptight, mysteriously not sure where the character is going girlfriend who is sure to develop its character as the season goes on.
She's always in sunglasses, and that's what we're talking about today. What Sunglasses Does Aubrey Plaza Wear in White Lotus Season 2? Let's take a look.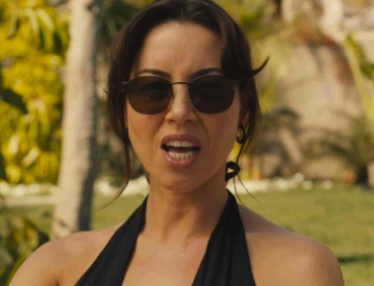 GET THE STYLE & LOOK
These sunglasses are a very classy pair of shades to add to your rotation. They are made by the crafty Oliver Peoples brand. The style is the GOLDEN SUN which is a beautiful pair of round sunglasses that has a very classic look.
Oliver Peoples has been doing a great job at putting frames on celebrities in media (TV shows, movies, etc.)
Ready to get your own pair of Oliver Peoples sunglasses? Yeah…it's time.