So…you're on the market for a new pair of Ray-Ban Aviator sunglasses. Got it. Great choice by the way. Everyone needs a pair of Ray-Ban Aviators. I'll make a recommendation right now. If you don't have ANY pair of Ray-Ban aviators in your collection, start with the classics RB3025 which are the most popular pair of sunglasses worn by many many many celebrities as you can always find on this page.
However, when shopping for one, if not the most popular of sunglasses, you need to ensure you're buying an authentic pair of sunglasses. Why? There are many fakes out there and authenticity is key to making sure you're rockin the style the right way.
We created this simple guide for you to follow to ensure you're buying an authentic pair of Ray-Ban Aviator sunglasses.
TIP #1: Check the packaging: Authentic Ray-Ban Aviator sunglasses come in a sturdy grey cardboard box with the Ray-Ban logo printed on the top and sides. The box should also have a white label on the bottom with the model number and other information about the sunglasses. If the packaging looks cheap or flimsy, or if the logo is not properly printed, it could be a sign that the sunglasses are fake.
The sunglasses should come with all the below items to ensure authenticity. If the case is also not of high quality and sturdy, that may be a sign of a fake.
TIP #2: Inspect the sunglasses: Authentic Ray-Ban Aviator sunglasses are made with high-quality materials and attention to detail. Look for signs of poor craftsmanship, such as unevenly spaced or misaligned frames, rough edges, or low-quality hinges.
TIP #3: Look for the logo: Authentic Ray-Ban Aviator sunglasses have the Ray-Ban logo etched onto one lens and embossed onto the nose pads. The logo should be clear and precise, not blurry or misaligned.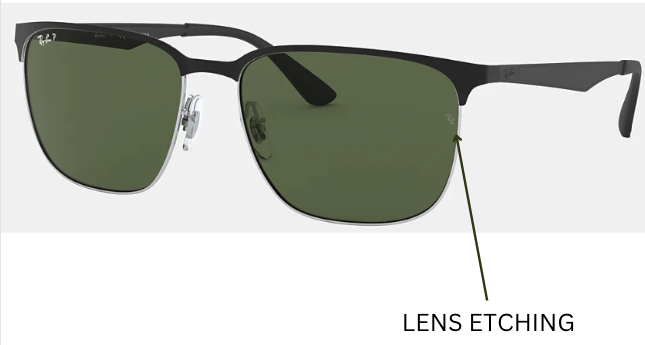 TIP #4: Check the serial number or UPC (bottom of box): Authentic Ray-Ban Aviator sunglasses have a serial number engraved on the inside of one temple (the arm of the sunglasses that goes over your ear). You can check the serial number against the list of valid serial numbers provided by Ray-Ban to verify the authenticity of the sunglasses. Check the bottom of box of the UPC code and check that upc against Googles UPC code for that model # you buy of a Ray-Ban.
TIP #5: Check the price: If the price of the Ray-Ban Aviator sunglasses seems too good to be true, it might be because they are fake. While it is possible to find discounts on authentic Ray-Bans, if the price is significantly lower than what you would expect to pay for a genuine pair, it is probably a fake.
Typically, Ray-Ban Aviators don't sell below MSRP which is $120+, however, you may find a good deal in certain marketplaces like Amazon.
By following these tips, you should be able to spot fake Ray-Ban Aviator sunglasses and avoid being scammed. It's always a good idea to buy from a reputable seller to ensure that you are getting genuine, high-quality products.